Quality Control - Managing the Essentials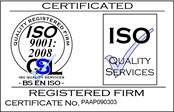 We use a bespoke CRM scheduling system in order to plan our work effectively, this enables us to improve efficiency and refine operational strategy. The system provides maximum visibility of our crews and the flexibility to respond quickly to unforeseen circumstances.
Our systems help us to:
Track communications to clients
Manage the quotations
Schedule tasks
Track and report company and customer Key Performance Indicators (KPIs)
Provide an incident and service call logging system
Conduct quality audits
Energy Efficiency
At Greig Avinou, we take our carbon footprint very seriously. Where possible, we use environmentally friendly methods of cleaning windows; the water fed pole system does not involve the use of any detergent and this method is increasingly being used.
We practice an efficient use of energy in our central head office and we recycle paper and other office supplies.
We are also committed to using suppliers that have good sustainability practices
Customer Service
We place great importance on good customer service. Our control centre deals with all queries quickly and effectively. The dedicated customer services team communicates with clients to ensure that service levels are maintained.
An important aspect of our performance management system is to continuously monitor our operations and implement improvements where necessary. We produce regular progress reports and our managers carry out reviews with clients to ensure we are performing in accordance with agreed KPIs.
However your organisation is structured, we have the regional offices, management teams and the equipment to exceed your requirements.
Greig Avinou is proud to have achieved ISO 9001 : 2008
Call for a quote 0845 504 6290Request a quote